State President and Hon. State Secretary's message-Jan 2016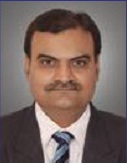 Dear Colleagues
I am immensely honoured and humbled as our IMA family has selected me as President of IMA, Gujarat State. I am aware that it brings lots of responsibilities on me as I need to fulfil expectations of our every member. As we all are well aware of Indian Medical Association and its contribution nationally as well as internationally, it will be a really proud privilege for me as a President of IMA, Gujarat State to represent all our fraternities at state level.
Gujarat State IMA has shown phenomenal progress in past years and it is one of the most active association at national level. This would not have been achieved if my worthy predecessors and other office bearers had not put in yeomen efforts and dedicated themselves in this pious cause. I will fail in my duty if I do not remember the contributions of my former colleagues Dr.Bipinbhai Patel, Dr.Mahendrabhai Desai, Dr. Jitendrabhai Patels, Dr.Kirtibhai Patel, Dr. Chetanbhai Patel, Dr.Golwala, Dr.Pragneshbhai Joshi, Dr.Mansukh Kanani, Dr.Bharatbhai Trivedi, Dr.Ashok Kanodia, Dr.Yogendra Modi, Dr.Babulal Patel, Dr.Anil Naik and many others under visionary leader Dr.Ketanbhai Desai's guidance and constant inspirations. I salute you all on behalf of Gujarat state IMA.
Our doctors of Gujarat are always keen to serve IMA and the society, be it CME, conferences, workshops, medical camps, awareness programmes, rallies, serving society in any odd situation or natural calamities. In short IMA has its enormous contribution to society in one way or other. Much more to be done in this direction is to shorten the gap between patient and doctors and I sincerely wish as a philanthropic social activity we will do such social services as a team.
I wish doctors are given the appropriate honour in the society and Doctor-Patient relationship is getting strengthened in view of social services rendered by doctor fraternity. For this we, the doctors will have to keep the hunger for medical knowledge kept kindled thus updating our skills and pass on the medical knowledge to the society for prevention of disease and better health.
IMA is a family. I earnestly seek support, help and guidance  from every single member of IMA. I know ,"THE CAPTAIN IS AS GOOD AS HIS TEAM". As an humble human being I wish and pray that I am proved a good captain ,ultimately.
As our veda says " SAMA GACHHADHVAM" meaning let us progress together.
Jai IMA……. yours
About The Author
Related posts