You Are Here:
Home
»
Articles posted by imagsb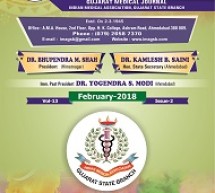 Dear Members Season's Greetings! Woman Doctors wing of AMA recently organised EVECON-2018- All India Woman Doctors Conference on 21st January-2018 at Ahmedabad under the aegis of Indian Medical Association. It created a history by gathering 1500 Lady Doctors for this event as Delegates from all over India. For this mega-event our National President - Dr. Ravi Wankhedkar, Secretary General- Dr. R.N.Tandon, o ...
Read more

›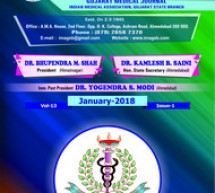 Dear Members Season's Greetings! First of all, best wishes to students who appeared in entrance exam of NEET PG this month. We hope everyone clears it successfully and get admission in their desired PG Branch. All of you must have enjoyed the Kite Festival 'Makarsakranti'. People in Gujarat celebrate as 'Uttarayan', in Punjab and Haryana, it celebrate as 'Lohri'; in Eastern India, it celebrate as 'Bi ...
Read more

›
Happy winter season . It give us immense pleasure to publish Gujarat Medical Journal this month. It is matter of pride that Dr Bhupendra Shah is going to be installed as a Vice President, IMA HQ in IMA NATCON 2017 at Mumbai. We congratulate our Immediate Past President Dr Yogendra Modi and his team for wonderful work and dedication for GSB IMA during last year. Dr Yogendra Modi will be awarded IMA Na ...
Read more

›
STATE PRESIDENT'S MESSAGE Dear Friends, It's my great pleasure that my installation of president GSB IMA at Narayani hotel Ahmedabad in GIMACON hosted by AMA organised by Dr. Harshad Patel and Dr. Jayesh Sachde. I am thankful to our beloved leaders Dr. Ketanbhai Desai, Dr. Jitubhai Patel, Dr. Mahendrabhai Desai, Dr Bipinbhai Patel, Dr. Anil Nanak, Dr. Dhaneshbhai Patel and all respected IMA committee member ...
Read more

›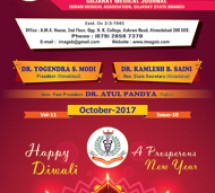 Dear Members, On behalf of Office Bearers of Gujarat State Branch IMA, we wish A Happy New Year to you and your family members. Festival of Diwali is now over and all of you must have enjoyed the Festival of Light. We wish that coming New Year brings Lots of Joy, Happiness and Prosperity in your Life. Countries all over the world are enacting laws to protect doctors and health care professionals. A new legi ...
Read more

›