Stop NMC Satyagraha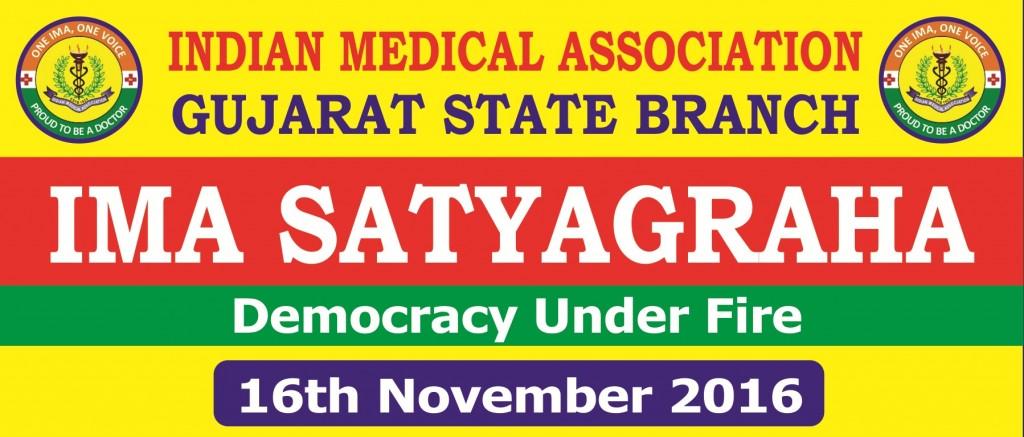 Stop NMC Satyagraha
16/11/2016
The background
The National Medical Commission Bill 2016 ushers in all the black issues IMA has been fighting so far.
It abolishes Medical Council of India and along with that the section 16.1.b of MCI Act  which says that the basic qualification to practise modern medicine is MBBS.
It introduces schedule IV to allow Ayurvedics, Homeopaths, and others  to get registration in Modern Medicine.
It takes away the voting right of every doctor in India to elect their medical council.
It brings non medical people like advocates, charted accountants and social activists into the highest body of medical governance changing its perspective and character for ever.
All the members are nominated by Central Government.
While it allows Ayurvedics and Homeopaths to practice modern medicine by back door,it requires legitimate MBBS students to take  a licentiate exam after final MBBS exam.
It potentially releases 60 to 99% of MBBS and PG seats in private medical colleges to the highest bidder at market rates.
It opens the floodgates of PG seats in modern medicine to AYUSH graduates by providing registration to them in schedule IV.
It directly affects Patient Care and Patient Safety by allowing graduates of other systems to practise  modern medicine.
It is clear that this black law takes away all the privileges of doctors and medical students. If this anti people legislation is allowed to become a law, it will not only be injustice to future generation of doctors it will also be a treason  against the people of India. The ulterior motive of this bill is to bring in indigenous medicine in an inappropriate way by diluting and controlling modern medicine: All by back door and deceit. It becomes a bounden duty on IMA to stop National Medical Commission Bill.
IMA had proclaimed 16/11/2015 as Satyagraha Day which was subsequently postponed on the intervention of Hon'ble Health Minister, Shri J P Nadda Ji on the assurance that our other main 5 main demands will be solved within six weeks:
To stop violence on doctors and hospitals across the country by bringing in Central Hospital Protection Law.
Urgent amendments in the PC & PNDT Act to ensure that strict penalties are imposed only on actual act of sex determination or female feticide and not for clerical errors like maintenance of registers etc.
Withdrawing the License Raj unleashed  by CEA and introduce accreditation as the process of validation and  exemption to  Single doctor clinics from Clinical Establishments (registration and regulation) Act .
Suitable amendments in Consumer Protection Act for capping the compensation amount
Enforcing the law that modern medicine drugs would be prescribed only by modern medicine doctors and no bridge courses to the AYUSH and others.
Not only has the Government not acted on its promises, it has brought the NMC bill to bring the medical profession to its knees. The Government not only sat on our demands for an year but also is challenging our very existence. The inter ministerial committee to solve the above issues is being  postponed repeatedly.
Apart from these national issues, Gujarat State Branch IMA has demanded to revoke the recent changes and exorbitant fees by Gujarat Pollution Control Board (GPCB) for Bio Medical Waste Disposal and water treatment at hospitals.
So IMA has been compelled to declare 'Stop NMC Satyagraha' on 16th Nov 2016.This day will see action across the nation in every district of the country. 'Stop NMC Satyagraha' will stop the National Medical  Council Bill and also carry forward the five point agitation of 2015.
Stop NMC                    Save the profession
About The Author
Related posts