You Are Here:
Home
»
Articles posted by imagsb
(Page 5) Dear Friends, Hope this bulletin finds you in the best of your health and spirits. As VikramSamvat 2072 has completed and 2073 begins with a NEW HOPE. May this New Year Bring Joy and Prosperity of our life. We really enjoyed GIMACON 2016at Rajkot. It was really Excellent and Memorable. Kudos to IMA Rajkot Team. Gujarat State Branch IMA installation was really Blessed with the Great News regarding Dr. B. C. ...
Read more

›
Installation Ceremony of Gujarat State Branch of Indian Medical Association at GIMACON 2016 TGB Session, Rajkot    ...
Read more

›
Dear Friends, When  this  IMA  GSB  Bulletin  reaches  to  you  Diwali  Festival  Celebration  must  have  started.  On  behalf  of Gujarat  State  Branch  IMA,  I  sincerely  greet  you  and your  family  A  Very  Happy  Diwali  and  Happy  New Year. May this new year bring prosperity to your life.  Diwali also known as Deepavali, the Festival of Lights. This Festival spiritually signifies the victory of l ...
Read more

›
Stop NMC Satyagraha 16/11/2016 The background The National Medical Commission Bill 2016 ushers in all the black issues IMA has been fighting so far. It abolishes Medical Council of India and along with that the section 16.1.b of MCI Act  which says that the basic qualification to practise modern medicine is MBBS. It introduces schedule IV to allow Ayurvedics, Homeopaths, and others  to get registrati ...
Read more

›
Click here to download complete list of Working Committee Members List ...
Read more

›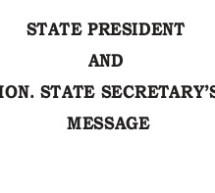 Dear Members, Wish you all a very very happy, healthy & festive season. Atmosphere  is  pleasant  almost  everywhere  and  other  way atmosphere  is  full  of  world  olympics.  We  all  have  huge expectations from our participants. The same way people of our country have huge expectations from we doctors on health aspect. We all should try our best to fulfill those expectations. Our  IMA  HQ  is  also ...
Read more

›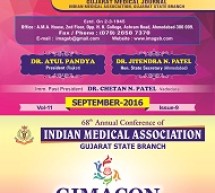 Dear Members, As you all know, this is last message before our term ends in the month of October. We know that whatever begins, ends. The same way our tenure will. During this whole year, we visited different branches,HQ, Government offices, print & electronic media, members hospitals & so many other places. We had different experiences & we learnt a lot from those exposures. So at the ou ...
Read more

›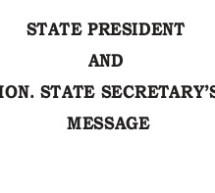 Dear Members, At the onset We wish Happy Monsoon to you and your family members. We again wish that by the time you receive this bulletin, Gujarat would have adequate rain all over the state. As you all know, overall situation worldwide is getting more and more disturbed day by day. We all get more & more negative news from all the corners of world. It includes Financial, Social, Political, Terrorism, E ...
Read more

›