You Are Here:
Home
»
Articles posted by imagsb
(Page 2)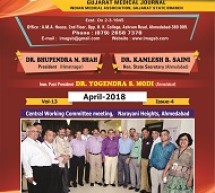 Dear Members Congratulations  for  the  intermediate  success  on  our  struggle  against NMC. We thank each one of you for your active contribution in the jouney so far. With  the  passing  of  the  Budget  session  of  the  Parliament  without passage of NMC bill the medical fraternity and IMA can rightfully devour this moment of peace in its war against NMC. True, NMC is perched precariously. Yet all of ...
Read more

›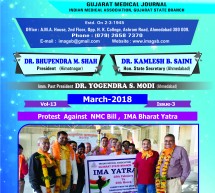 Dear Members Season's Greetings! Medical profession is facing an unprecedented challenge as never before. The exclusive privilege and right of modern medical practitioner to practice and prescribe modern medical drugs enshrined in MCI act through clause 15 (A) is to be lost with the enactment of NMC. By providing two types of registration in NMC 6 lacks of Ayush doctors with bridge course are to be a ...
Read more

›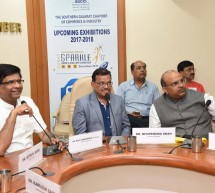 IMA, Surat Branch has organised five programmes from 3.00 pm to late 11.00 pm. (1) Meeting with Dean & Superintendent as well as faculties of GMC, Surat & addressed  medical  students  about  NMC  between  3  to  4  pm.  There  is presence of more than 450 student & faculties. (2) Rally Majura Gate to Udhna Darwaja & back to Majura Gate between 4 to 5.30 pm. There is presence of more than 10 ...
Read more

›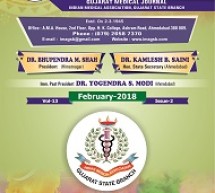 Dear Members Season's Greetings! Woman Doctors wing of AMA recently organised EVECON-2018- All India Woman Doctors Conference on 21st January-2018 at Ahmedabad under the aegis of Indian Medical Association. It created a history by gathering 1500 Lady Doctors for this event as Delegates from all over India. For this mega-event our National President - Dr. Ravi Wankhedkar, Secretary General- Dr. R.N.Tandon, o ...
Read more

›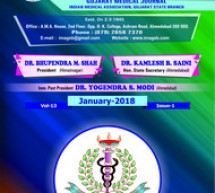 Dear Members Season's Greetings! First of all, best wishes to students who appeared in entrance exam of NEET PG this month. We hope everyone clears it successfully and get admission in their desired PG Branch. All of you must have enjoyed the Kite Festival 'Makarsakranti'. People in Gujarat celebrate as 'Uttarayan', in Punjab and Haryana, it celebrate as 'Lohri'; in Eastern India, it celebrate as 'Bi ...
Read more

›
Happy winter season . It give us immense pleasure to publish Gujarat Medical Journal this month. It is matter of pride that Dr Bhupendra Shah is going to be installed as a Vice President, IMA HQ in IMA NATCON 2017 at Mumbai. We congratulate our Immediate Past President Dr Yogendra Modi and his team for wonderful work and dedication for GSB IMA during last year. Dr Yogendra Modi will be awarded IMA Na ...
Read more

›