President's message January -2015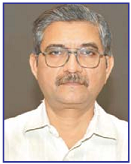 Friends
Leaders may come and leaders may go from Indian Medical Association. However the National and State leaders through their leadership qualities inspired me to think of various ideas which I could deliver for the members who trusted me and gave this responsibilities with great expectations.
Continuous enhancement of our own scientific knowledge along with good communication skill is the need of today. I request all the branches to organize more CMEs and workshops. I appeal to all of my colleagues and fellow IMA members to participate in Accredited Scientific Programmes.
Even Medical Council of India, code of Medical Ethics, Section 1.2.3 says A Physician should participate in professional meetings as part of Continuing Medical Education Programmes, organized by reputed Professional Academic Bodies or any other authorized organizations.
To deliver the best to our IMA members, IMA Gujarat State Branch has started to prepare the list of faculties – subject wise. Please inform the office regarding the good faculties. I request the local branch Presidents and Hon. Secretaries to take advantage of this. I sincerely appeal to all the members to join IMA Knowledge – a scientific portal – an initiative of IMA HQ. This has many advantages for us. The major advantage is digitalization of all records with online credit of credit points. Each registered medical practitioner will be given his own login id & password.
Members can view their points from his own account. Member can send the relevant news, case reports, scientific materials for the portal. Congratulation to IMA Vadodara Team for initiation of awareness amongst its members regarding this Data Updation and IMA Knowledge portal.
This year, we have planned many state level programmes in different parts of Gujarat. The first on Medicine and Law is schedule on 01 February 2015. Many IMA Members from the different parts of Gujarat have registered for this.
The second state level programme is schedule on 08 February 2015. It is the Half Marathon hosted by IMA Vadodara. The details of which are given in this bulletin. I request the other bigger branches to come forward to organize state level progammes on the topic concerned to all for the benefit of our IMA members.
The recently concluded NATCON is an example of what Work can do.To Gather very one chieves ore. We have seen the result of Team NATCON especially Dr. Anil Nayak, Dr. Mahendra Desai, Dr. Bipinbhai Patel, Dr. Jitendra N. Patel, Dr. Kamlesh Saini & many more under the able leadership of Dr. Jitendra B. Patel. Everyone, who attended the conference would never forget the hospitality and love showered on them. We are indeed grateful for their love and affection. We all have relished the educative and interesting scientific feast along with the entertainment programmes.
I had privilege of attending the meeting with Mr. Anil Mukim, IAS, Health Secretary. On behalf of IMA Gujarat State Branch we represent to form a liason committee which meet once in a month or two and exchange their views on various health issues for the betterment of society. In my last month's communication, I have given my priorities for the entire year. Myself and my team is working on it. What we require is your active involvement, your active participation. Do give your feedback, suggestions to us.
At the end, I would like to complete my message by quoting
"Every time we fall and we get up,
we are one step closer to SUCCESS.
Even failures make us move FORWARD
so don't be afraid of failures.
To gather we will achieve.
About The Author
Related posts