November Bulletin 2013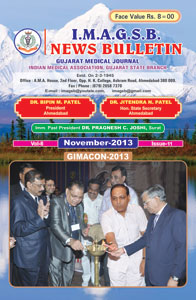 Dear friends,
As samvat 2069 ended and samvat 2070 started, may the festival of lights be the harbinger of joy and prosperity. As the holy occasion of Diwali is here and the atmosphere is filled with the spirit of mirth and love, here's hoping this festival of beauty brings your way, bright sparkles of contentment, that stay with you through the days ahead.
New year has begun but our challenges are old. since India became independent in 1947, there has been steady progress on all fronts of human
and economic development. India has matured as the largest democracy in the world and also earned the reputation of being one of the fastest growing economies during last two decades. However, the country remains challenged with several pressing issues which includes maintaining good health for the second largest population in world. As a signatory of Alma Ata declaration, provision of primary health care has remained a priority area in the planning process.
About The Author
Related posts