March Bulletin 2015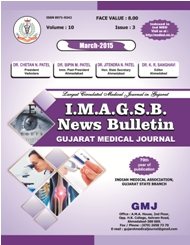 It is a great pride for all of us at IMA Gujarat State Branch having publication of indexed journal. We are publishing this journal twice in a year. Publication of journal is a part of scientific activity which is the backbone for our association.
Indian Medical Association has taken up an ambitious project of IMA Knowledge where our member practicing in a rural area can also get an updated knowledge through online. We all are professionals and it is our duty to keep our knowledge updated in the present scenario particularly.
This will definitely help us in enhancement of our knowledge & reduce the litigation. This journal contains interesting articles and discussions on various subject including case reports by our members. There are many medical colleges in our state & now our journal receives many original research works for publications.
About The Author
Related posts