Hon. State secretary's message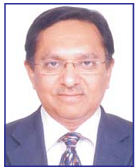 Dear members,
At the outset, I am putting my first write upas Hon Secretary of this great association
for second term. I am thankful to all my seniors, mentors, colleagues,office bearers
of GSB IMA, state council & state working committee members for electing & selecting me for putting
full trust in me. I am also thankful to all members for your generosity of accepting me, your support & guidance during last year. I am sure that I will have even better acceptance & support from all of you during this year too.
I would like to mention some names like Dr Ketan Desai, Dr Kirtibhai Patel, Dr Jitubhai Patel, Dr Mahendra Desai, Dr Bipin Patel, Dr Yogendra Modi & many others without them I might not have accomplished my job.
Friends as you all know & what I have already declared in last message that IMA NATCON 2014, organised by AMA & supported by GSB was not only grand success but people will remember it for years to come. More than 2500 registrations, very well managed, attended, enjoyed, excellent entertainment programme by well known & today's hot favourite ANKIT TIWARY, tasty food by FLAVORS, superb venue, ambience & weather. Everything beyond expectation & imagination. Excellent scientific sessions, well managed RALLY as well as inaugural function, perfect transportation management, beyond expectation accommodation facility, in
short what not . In one word we can say " ZAKKAS." And that was all because of great team work by each & every member of organising committee. My sincere & heartfelt gratitude & thanks to all.
But past is past. We are always interested in future. Once again & always , my invitation for active participation in all activities of our beloved & parent association. Write ups are invited on various topics for our bulletin.
At last but not least, I wish our newly installed President Dr Chetanbhai Patel, all best wishes & support on behalf of all members for incoming tenure.
Jai IMA, Jai HIND.
About The Author
Related posts