Hon. State secretary's message December-14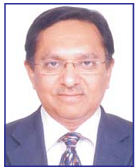 Dear Members,
At the outset, I wish you all a very very happy & prosperous new year. I pray almighty god that he provides you healthy & creative thoughts, strong will & pursuance to fulfil it in the making of healthy society, which is responsibility of we all as doctors. Recently we at Ahmedabad, Gujarat have successfully hosted 89 National Conference of our own parent body, Indian Medical Association after a span of 25 years. We, the organising committe, are thankful to all delegates, R C members, patrons, platinum patrons, sponsorers & all those who supported us to make it a grand & memorable event. It was really extraordinary in all aspects like venue, food, entertainment programme, inauguration & installation function & of course heart of any conference scientific feast.
As a pivotal part of our state branch, on behalf of all members, I congratulate & welcome our newly installed PRESIDENT of GSB DR. CHETAN PATEL from VADODARA. We are lucky that we have young, dynamic, enthusiastic, commited, visionary & very efficient person as our state president. . He is a person with strong will power & dedication. I am sure that under his leadership & guidance, our state branch will achieve new heights of success.
As we all are in the middle of winter, wishing you all a very very healthy & happy winter. You all must be experiencing the impacts of winter in full swing. I think the temperature might be in the range of 5 to 20 degrees in different parts of Gujarat. Let us have a serious thought about our army people who work day in & day out very hard to protect the people of our beloved nation, where the temperature is in the range of minus 20 to 5 degrees. May be even lower. And for what? I feel its a high time to do something for welfare of their family members & them as responsible citizen of this country.
Once again, inviting all members to participate actively in any activity of our
fraternity.
About The Author
Related posts