February Bulletin 2015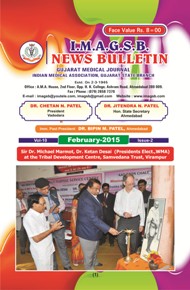 Friends
Hope, you must updated your knowledge on Swine flu. Swine Flu is extending its wings and is now in Epidemic stage. This year, up to 12 February only in Gujarat 117 people died due to Swine Flu and 1233 cases have been identified. As we are in medical profession, it is our duty to stop or control this epidemic and help the Government and Society by what ever way we can.
Indian Medical Association, Gujarat State Branch along with Health & Family Welfare Department, Govt. of Gujarat organize many district level programme for awareness and information of our members. If any district has not organized such programme, please so. Be vigilant, pick up the cases in early stage and refer it to the designated hospitals. Your co- operation is very much needed. Let us hope with for improvement in condition with gradual decline in cold.
About The Author
Related posts