April Bulletin 2015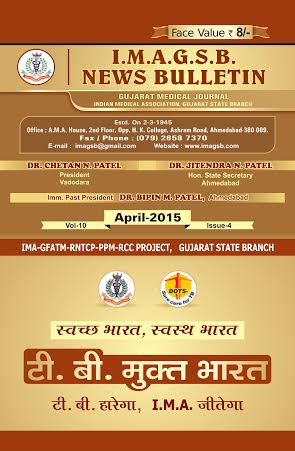 Swine Flu epidemic is now under control. This year highest number of patients have suffered with it as well as lost their life. As a medical practitioners, all of us have contributed to the best of our ability. All of you
deserve appreciation for your active efforts in curbing this epidemic from Team IMA GSB.
On 11 & 12 April, we have attended the Central Working Committee meeting held at New Delhi. Many issues pertaining our field were discussed. Dr. Jayshreeben Mehta, President, Medical Council of India was present. She answered the queries of our members but the important message which she gave was each Medical Practitioner must follow the Ethics rules prevailing at this time. We have to improve our image in the society. Senior Advocate and Attorney, General of Govt. of India, Mr. Mukul Rastogi was also present. Many issues including Clinical Establishment Act, PC PNDT Act were discussed. He advised IMA how to proceed in such issues with Government. The Leadership of Indian Medical Association was successful in convincing about the concerns of
members of IMA. According to him, the Medical Practitioner has all the right to practice the modern medicine and there should not be any laws which prevents it in doing so. He will help to facilitiate the meeting of IMA Leadership and Ministry of Health & Family Welfare. The issue of cross-pathy was also discussed.
About The Author
Related posts